Nancy

Admin
In a single phrase its "Designs that has the least environmental impact."
There are some GREEN BUILDING CERTIFYING FIRMS who certifies the building to be green
Image Source: http://www.slideshare.net/PiyapongMuenprasertd/leed-green-buildings
Some of the benefits of a green design to a building owner, user, and the society:
Reduced energy consumption without sacrificing the comfort levels
Reduced destruction of natural areas, habitats, and biodiversity and reduced soil loss from erosion etc.
Reduced air and water pollution (with direct health benefits)
Reduced water consumption and limit waste generation due to recycling and reuse.
Reduced pollution loads
Increased user productivity
Enhanced social image and marketability
Sustainable energy generation using solar panels or green pavement slabs.
http://www.slideshare.net/PiyapongMuenprasertd/leed-green-buildings
Image Source: http://www.slideshare.net/PiyapongMuenprasertd/leed-green-buildings
Site Planning:
Analyze the site on the basis of orientation of building to optimize the use of passive solar energy, ventilation.
Use light colored roofs and dark colored pavements, pavings and walkways if you want to give a trendy look of the site.
Provide natural shading of buildings and paved areas with trees and other landscape features.
Reduce impervious areas of the land if any, say if the land parcel has a piece of rock in the planned area, by carefully evaluating parking and roadway design.
Avoid over-illumination of the site and use exterior lighting fixtures in such a way, which direct light downward.
Make use of existing mass transit system and make buildings and site pedestrian and bike friendly, including safe storage of bicycles.
Ensure there is enough space for fire-brigade & ambulance to access all the towers and faces of the tower.
Ensure that if needed there is a possibility for evacuation using helicopter.
Ensure that the site is planned for wheelchair bound elderly and patients.
While planning the elevator there should be provision for stretcher friendly elevator which not only has access to ground level but the lift lobby should also have easy access to the terrace so that need based helicopter ambulance service can be availed.
Protect and identify valuable greenfield and wetland sites from development.
Avoid needless compaction of existing topsoil and provide effective sedimentation and silt control.
Water Management:
Treat waste water on site
Use hold and release technologies such as dry retention ponds only as a last resort as these technologies do not preserve the natural water cycle.
Minimize the use of potable water by using low-flow plumbing fixtures and toilets and waterless urinals. Use high efficiency/dry fixtures
Capture rainwater for irrigation & recycling it for flush system.
Storm water that leaves the site should be filtered and processed naturally or mechanically to remove trash and debris, oil, grit and suspended soils.
Reuse condensate water from HVAC systems
Use storm water / graywater for sewage conveyance
Rainwater collected form roofs and paved parking lots can be used for flushing toilets and landscape irrigation.
Select native or adaptive and drought tolerant plant species and eliminate the need for a permanent irrigation system.
Energy:
The core source of energy is sunlight. It depends on
Quality and quantity of sunlight.
Illuminance which is amount of light falling on a surface.
Daylight factor which is ratio of interior illuminance to available outdoor illuminance
Luminous flux which is the total quantity of radiant energy per second responsible for visual sensation from a luminous body .
Luminous intensity in any particular direction is the luminous flux emitted by the source per unit solid angle in that direction.
Glare which is defined as the brightness within the field of vision of such a character so as to cause discomfort and interference in vision.
FACTORS AFFECTING DAYLIGHT:
• Roof lights
• Atria
• Glazing
• Shading
• Light shelves and reflectors
• Artificial lighting
CLASSIFICATION OF LIGHTING SYSTEMS
1 Direct : Lighting system emitting light in a downward direction that distributes 90% to 100% of its light in the direction of the surface to be lit.
2 Indirect : Lighting achieved by directing the light emitted from a luminaire toward a ceiling, wall, or other reflecting surface, rather than directly at the area to be illuminated.
3 Diffused : Light reflecting from a surface rather than radiating directly from a light source.
4 Semi-Direct : In this system chances of glare are reduced. Here transparent type shades are used through which about 60 % light is directed downward and 40 % is directed upward.
5 Semi-Indirect: In this system about 60 to 90 % of total light is thrown upward to the ceiling for diffused reflection and the rest reaches the working plane directly.
Material to Use:
Environmentally friendly materials
Efficient HVAC systems
Use of materials which have recycling content -Plywood -Gypsum -Aluminium -Steel (post consumer) -Carpets -Modular furniture
Provide area within building for storage and collection of recyclables.
Minimum: corrugated cardboard, paper, glass, plastic and metals.
Indoor Environment quality:
Increased ventilation -substantial fresh air to building occupants
Daylight and view
Thermal comfort
Use of Nontoxic materials for painting for
Provide smoke free building
Use bio degradable and environment friendly cleaning agents that do no release VOCs or harmful agents and residue.
Protect construction materials so that they do not become damp and moldy.
Locate outdoor smoking areas
Use smoke free or less smoke emitting cables for inhouse cabling.
Install air filters and clean any contaminated ductwork and ventilation equipment.
Optimize solar orientation
A few green offices in India.
Wipro Gurgaon office: http://business.rediff.com/slide-show/2009/dec/29/slide-show-1-tech-why-wipros-fmcg-venture-is-a-success.htm#4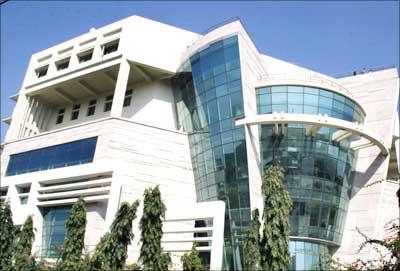 CII-Sohrabji Godrej Green Business Centre: http://www.thehindu.com/thehindu/mp/2004/07/08/stories/2004070801350100.htm
Suzlon Energy Ltd Pune :http://economictimes.indiatimes.com/interviews/synergised-sustainability/articleshow/11710967.cms
ITC Green Center Gurgaon http://www.thehindubusinessline.com/bline/2004/11/16/stories/2004111601800200.htm